Chocolate Cake with Advocaat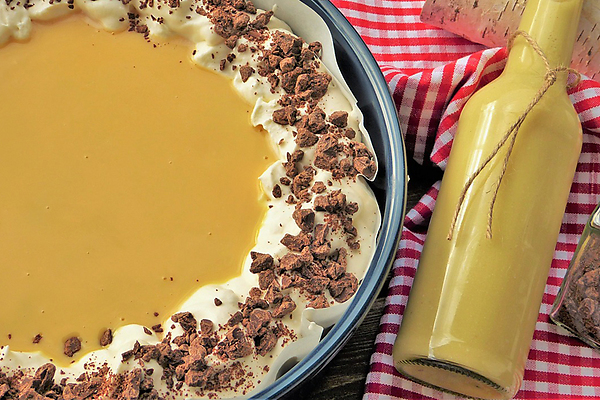 Chocolate Cake with Advocaat Cream
Hurrah! Dry January is almost at the end… celebrate by making this scrumptious chocolate cake with a decadent advoccat cream. (And a great way to use up Grandmas left-over advocaat from Christmas!)
Ingredients
120g Milk Chocolate
60g Butter
4 Eggs
180g Sugar
100g Plain Flour
50g Corn Starch
2 Tsp Baking Powder
1 Tbsp Espresso Powder
For the filling and topping
600g Whipping Cream
300ml Advocaat
1 Tsp Vanilla Essence
2 Egg Whites
40g Sugar
Melt chocolate with butter in a pyrex bowl over hot water. Preheat oven to 175°C. Separate eggs and beat whites until stiff. Mix flour, cornstarch, baking powder and espresso powder in a bowl, sift over egg whites and fold in with a whisk. Beat egg yolks with sugar until fluffy and fold in chocolate and egg white mixtures. Spread batter in a round baking tray lined with parchment paper and bake about 30 minutes.
For the filling, beat cream until soft peaks form. Add the Advocaat and vanilla essence. Beat egg whites and sugar until stiff peaks form, then fold alternately with whipped cream into Advocaat mixture. Refrigerate filling about 15 minutes.
Set cake on a serving plate and spread the filling over the top of cake. Make up the remaining whipping cream and pipe round the edge of the filling, (if the cream drops into the advocaat filling, this is normal and just adds to the delicious taste) sprinkle with grated milk chocolate on to the cream edge and thoroughly chill cake before serving.