Chocolate Coffee Cake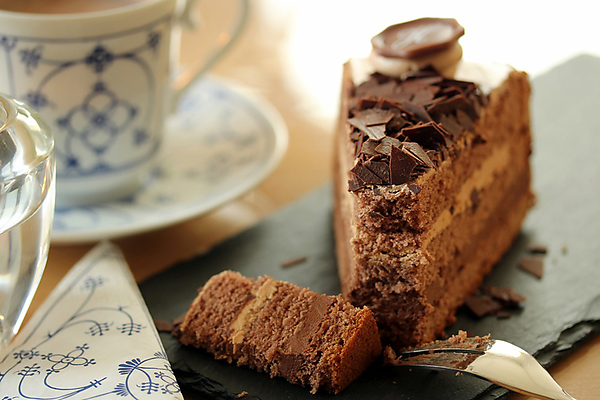 Chocolate Coffee Cake
It's National Coffee Week! Time to bake and share some baked goods with friends and family over a cup of coffee or 2!
Ingredients
For the cake
250g Dark Chocolate
250g Unsalted Butter
1 Tbsp Instant Coffee
150g Self-Raising Flour
½ Tsp Bicarbonate of Soda
80g Cocoa Powder
500g Caster Sugar
4 Free-Range Eggs
2 Tbsp Sunflower Oil
125ml Milk
150g Plain Flour
For the butter icing
150g Dark Chocolate
50g Unsalted Butter
6 Tbsp Double Cream
50g Icing Sugar
Preheat the oven to 170C/340F/Gas 3½. Grease 3 standard round cake tins and line with baking paper.
For the cake, place the chocolate, butter and coffee into a bowl set over a pan simmering water, making sure the bowl does not touch the water.
Stir until melted and smooth then remove from the heat and set aside.
Mix together the flour, bicarbonate of soda and cocoa into a large bowl. Stir in the sugar and make a well in the middle.
Add the beaten eggs, oil and milk into the well and stir gently to combine all the ingredients.
Add the chocolate and butter mixture and stir to combine. The mixture will be wet and sloppy.
Pour half the mixture into each prepared baking tin and cook for one hour or until firm.
Leave to cool completely before turning the cake sponges out of the tins.
For the icing, place 100g Chocolate and all the other ingredients in a pan. Heat gently and stir until smooth.
Once cake and icing have cooled, spread the icing onto the top layer of each cake sponge and then using a palette knife spread the icing and sandwich the cake sponges together.
For the top decoration of the cake, sprinkle chopped flakes of the remaining 50g dark chocolate all over the icing to make an indulgent topping.