Fuel Your Black Friday Spending Spree… Chocolate Nutty Triangle Bites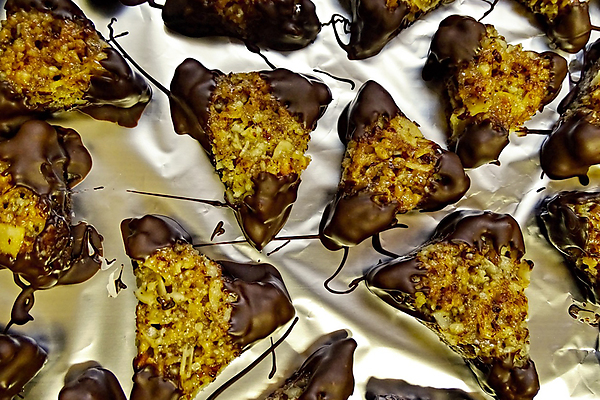 Fuel Your Black Friday Spending Spree… Chocolate Nutty Triangle Bites
Everyone needs a sweet treat for the biggest xmas shopping spending spree! These delicious nutty chocolaty bites are a real treat for anyone busy shopping all day.
Ingredients
Nutty Topping
100g Golden Caster Sugar
100g Unsalted Butter
150g Hazelnuts
60g Ground Almonds or Ground Hazelnuts
2 Tbsp Water
3 Tbsp Apricot Jam or Marmalade
Shortbread Base
185g Unsalted Butter
250g Plain Flour
85g Golden Caster Sugar
¼ Tsp Salt
Topping To finish
Method
Preheat over to 180 c or gas 4 and line a cake baking tin with greaseproof paper.
Chop hazelnuts into small pieces. Place the butter, sugar and water for the nutty topping in a saucepan to melt together and stir in the chopped hazelnuts and the ground almonds. Mix well together and set aside to cool.
Combine the flour, sugar and salt then rub in the butter with your fingertips so it becomes a dough. Press the dough into a greaseproof paper lined baking tin and use a fork to lightly prick the surface.
Spread the apricot jam / marmalade over the dough then spoon over the cooled nut topping mixture and spread to cover. Bake in the preheated oven for around 25 minutes until golden brown.
Allow to stand and cool. Cut into six equal squares then cut each square on the diagonal to form 12 triangles.
Melt the chocolate in a glass bowl over a pan of simmering water (or in the microwave if you prefer). Dip or spoon the melted chocolate over each corner point of the triangles. Allow to stand and set.