Chocolate & Salted Caramel Cupcakes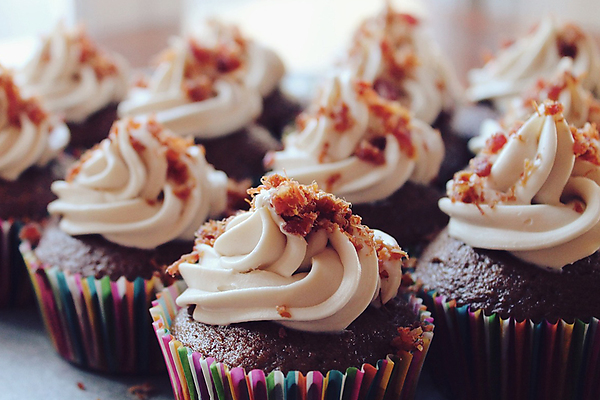 Chocolate & Salted Caramel Cupcakes
Celebrate the half-term autumn holiday with an irresistibly delicious chocolaty cupcake recipe topped with creamy caramel butter cream, no-one can resist.
Chocolate Cupcakes
125 g Salted Butter, (room temperature)
150 g Dark Brown Sugar
2 Eggs
125 g Dark Chocolate (melted and cooled)
190 g Plain Flour
2 Tbsp Cocoa Powder
2 Tsp Baking Powder
125 ml Milk
Salted Caramel Topping
250 g Salted Butter, (room temperature)
115g Golden Syrup
75g Brown Sugar
1½ Tsp Sea Salt Flakes
250 g Icing sugar, (sifted)
100g Plain Hard Toffee
Preheat oven to 180ºC. Line a 12-hole 80 ml (⅓ cup) muffin tray with muffin paper cases.
Use a wooden spoon or mixer to beat the butter and sugar together, scraping down the sides of the bowl occasionally, until pale and creamy. Add the eggs one at a time, beating well after each addition. Beat in the cooled chocolate.
Sift together the flour, cocoa powder and baking powder. Use a large metal spoon or spatula to fold half the flour through the chocolate mixture. Fold in the milk and then the remaining flour mixture until just combined.
Spoon the mixture into the paper cases, dividing evenly. Bake in preheated oven for 25 minutes or until a skewer inserted into the centre of a cupcake comes out clean. Cool for 5 minutes in the tin, then transfer to a rack to cool completely (this will take about 30 minutes).
Meanwhile, to make the salted caramel frosting, use an electric mixer or a wooden spoon to beat the butter, golden syrup, brown sugar and salt until pale and creamy. Add the icing sugar and beat until smooth and very pale and creamy. Spoon the frosting into a large piping bag fitted with a large 1.5 cm star nozzle or 1.7 cm plain nozzle and pipe swirls of frosting onto each cooled cupcake. Sprinkle each cupcake with a little extra sea salt flakes and grate toffee pieces over the icing.