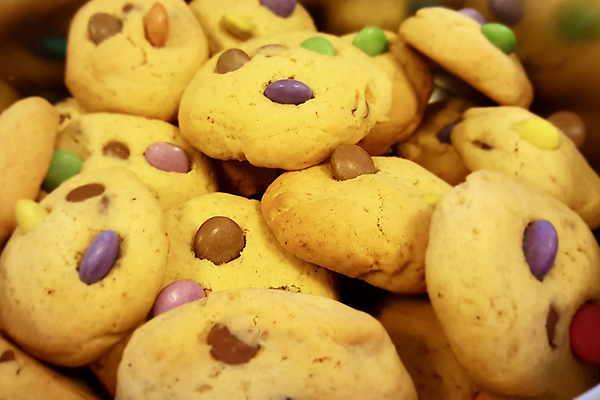 Ingredients
125g Butter (softened)
1 Tsp Vanilla Essence
1 Cup Brown Sugar
2 Eggs
2 Cups Plain Flour
1 Tsp Baking Powder
1 Packet Sugar Coated Colourful Chocolate Beans
Preheat oven to 190C and line two trays with baking paper. Place the softened butter, vanilla essence and brown sugar into the bowl of an electric mixer and beat until it's pale and creamy (or use a wooden spoon and mixing bowl if no electric mixer is available). Add the eggs one at a time and mix for a further two minutes until well combined.
Remove the bowl from the mixer stand, sift the flour and baking powder over the butter mixture. Mix together well with a large spoon.
Use a dessert spoon to scoop up the mixture and lightly roll into balls. Place the balls onto your prepared baking tray and flatten slightly. Make sure you leave approximately 3cm between each biscuit to allow room for spreading. Repeat until you have used all of your mixture.
Gently press the coloured chocolate beans onto the top of the flattened biscuits. Place the trays into the oven and bake for 10-12 minutes or until the biscuits have turned light brown. Let the biscuits cool on the baking trays for 5 minutes before carefully transferring to a wire rack to cool completely.
Grab a cool glass of fresh milk and dunk away!