Gluten-Free Raspberry Macaroons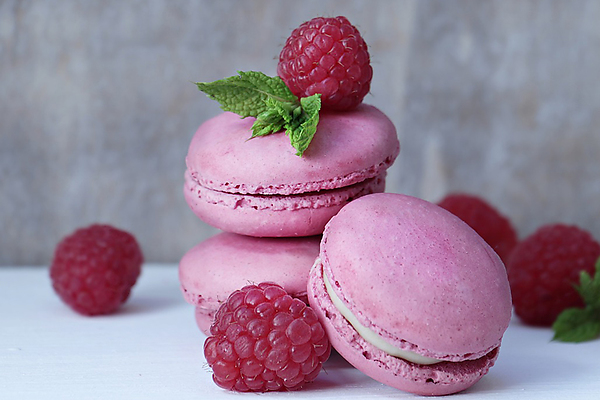 Ingredients
125g Ground Almond
250g Icing Sugar
3 Medium Eggs
2-3 Drops of Pink Food Colouring
85g Caster Sugar
40g Butter, (at room temperature)
3 Tbsp Raspberry Jam
Pre-heat the oven to 150°C/300°F/Fan 130°C/Gas Mark 2. Line two large baking sheets with baking parchment.

Place the ground almonds and 175g of the icing sugar in a food processor and mix until fine.

Using an electric hand mixer, whisk the egg whites. Then gradually add the sugar a tbsp at a time, whisking well after each addition, until thick and glossy. Add a few drops of pink food colouring and whisk until combined.

Fold through the ground almond mixture until just combined then spoon into a piping bag fitted with a 1cm round nozzle. Pipe 2.5cm rounds onto the prepared baking sheets, then tap the baking sheets twice on the work surface to release any air bubbles (this will stop the macaroons from cracking.)

Leave on the side to form a skin so that when you touch them lightly they don't leave mixture on your finger. Bake in the oven for 15 minutes then leave to cool on their trays.

Whisk the butter and remaining icing sugar together until light and fluffy. Push the raspberry jam through a fine sieve then whisk into the butter cream. Spoon into a piping bag and pipe small circles onto one macaroon half and sandwich together with another.

Ready to serve and enjoy!