Mini Blackberry Bread and Butter Puddings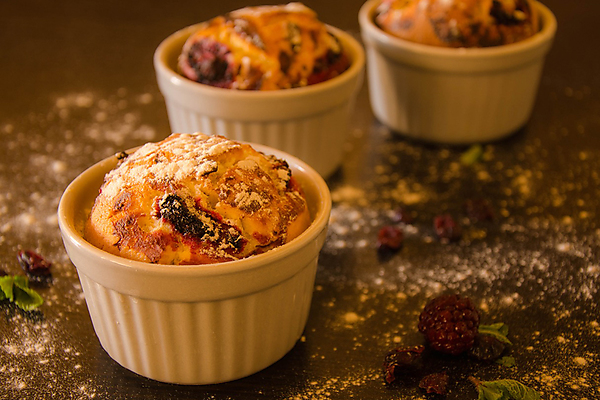 Mini Blackberry Bread and Butter Puddings
90g Broken Bread
20 Blackberries
1 ½ Tablespoon Melted Butter
1 Large Egg
1 Egg Yolk
190ml Milk
50g Sugar
1 Teaspoon Vanilla Extract
1 Tablespoon Raisins
Preheat oven to 350F/180C.
Mix the butter with bread and keep aside.
In a bowl add the rest of ingredients (except blackberries) and whisk until the sugar dissolves.
Distribute the half the bread in two ramekins, add the blackberries on top then add the rest of bread on both ramekins.
Pour the custard evenly in both ramekins.
You can add the raisins now if you wish.
Bake in a water bath for 45 minutes. Sprinkle and dust with icing suagr and serve hot with cream, ice cream, custard or some brandy butter!