Treat Dad - Mini Chocolate Brownies with Chocolate Sauce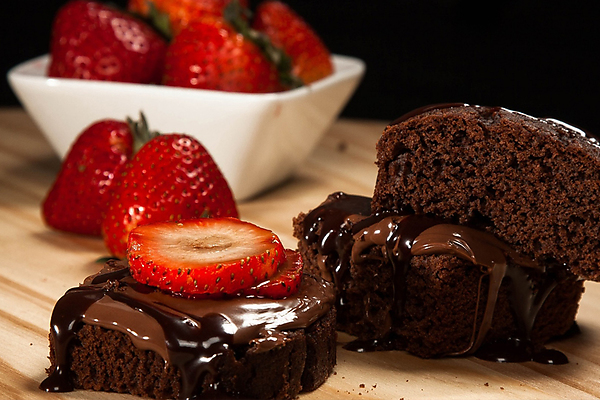 Mini Chocolate Brownies with Chocolate Sauce
Treat Dad this Father's Day to a special home-made batch of brownies straight from the kitchen with gooey chocolaty sauce and fresh strawberries.
Ingredients
175g Unsalted Butter, (chopped, plus extra for greasing)
200g Dark Chocolate (chopped)
50g Soft Light Brown Sugar
1 Tsp Vanilla Extract
85g Plain Flour
50g Cocoa Powder, (plus a little extra to serve)
¼ Tsp Baking Powder
3 Large Eggs, (beaten)
100g Dark Chocolate (To melt for topping sauce)
100g Milk Chocolate (To melt for topping sauce)
Strawberries (Cut into slices)​
Method
Heat oven to 180C/160C fan/gas 4. Butter 12 holes of a deep muffin tray and line each hole with a strip of baking parchment – this will help you lift out the brownies later (or line 16 holes of 2 trays with muffin cases). Put the butter, 150g of the chocolate, sugar and vanilla in a heatproof bowl, suspended over a pan of barely simmering water. Heat gently, stirring now and again until melted, then remove from the heat and leave to cool for a few mins.
Meanwhile, sift the flour, cocoa, baking powder and a good pinch of salt together in a large bowl.
Add the warm, melted chocolate mixture, the eggs, and the remaining 50g chocolate to the dry ingredients, then mix until just combined. Divide the mixture between the holes of the muffin tray/cases. Bake for 18 mins until cooked but still gooey in the centre – they will continue cooking a little as they cool down. Leave to cool for 30 mins in the tin before transferring to a wire rack to cool completely. Melt the dark chocolate and milk chocolate in separate saucepans when ready to serve the brownies, and when melted into a sauce, pour the chocolate on top of the brownies and serve with strawberry slices.
If you are looking for a ready-made indulgent chocolate brownie to buy as a gift, then we have a delicious chocolate brownie slice ready to buy, also available in gluten-free too to order direct to your door!