Strawberry & Cream Mini Doughnut Muffins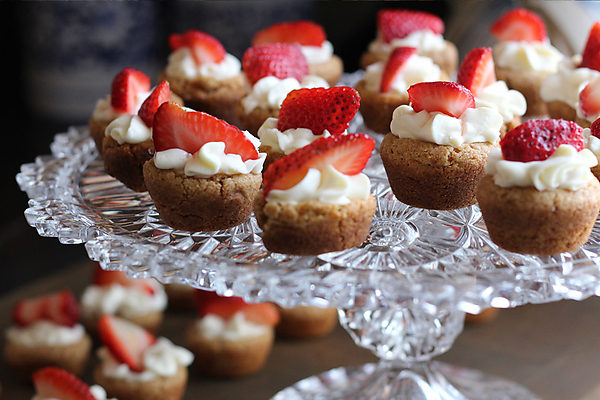 Strawberry & Cream Mini Doughnut Muffins
Doughnut Muffins Cake Ingredients:
165g Butter
1 x Tablespoon Baking Powder
2 x Eggs
380g Plain Flour
260 ml Milk
150g Sugar
1 x Teaspoon Salt
Butter Cream Ingredients:
200g Sugar
75g Soft Butter
1.5 Teaspoons Vanilla
1 to 2 Tablespoons Milk
Fresh Strawberries
Beat the butter and sugar for 3-5 minutes in a mixing bowl until it is fluffy and light in colour.

Add the eggs, one at a time, and beat until just mixed in.

Meanwhile, sift together 380g flour, 1 tablespoon baking powder, and 1 teaspoon salt.

Start by adding a fourth of the flour mixture and then pour in a third of the milk and stir again. Then add the butter, sugar and egg mix. Continue alternating mixing in the dry flour mixture and milk until all used up. Mix until well combined and smooth, *be careful not to over mix your batter or the muffins will be tough.

Grease a muffin / cupcake tin with some extra butter and scoop about 1.5 tablespoons of batter into each mini muffin tin. Bake at 180 degrees for 14-15 mins, until a skewer comes out clean.

Remove the muffins from the oven and whilst cooling down, top with some cinnamon sugar sprinkled on top.

To make the butter cream to go on top of each muffin doughnut, put all the butter cream ingredients into a mixing bowl and mix well together to make a smooth, yet firm butter cream. *If you have an electric mixer, then make the butter cream in this.

You can either pipe the butter cream on top of each individual muffin doughnut or use a teaspoon to put a dollop on top.

Take your strawberries and cut into quarters and place on top of the butter cream.

Enjoy!