Vanilla & Banana Sprinkle Muffins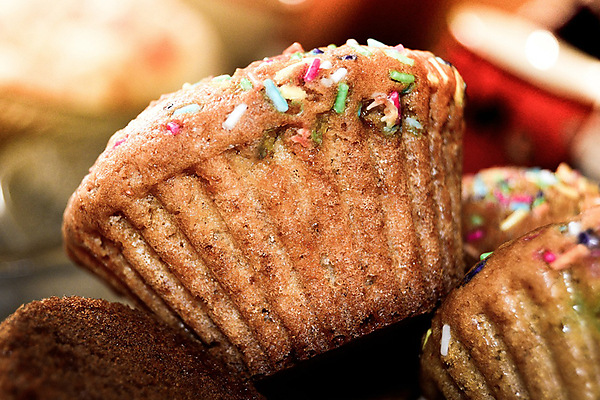 Vanilla & Banana Sprinkle Muffins
Making half-term fun in the kitchen with this easy bake muffin recipe.
Ingredients
360g Plain flour
2 Tsp Baking Soda
2 Tsp Baking Powder
1 Tsp Salt
4 Ripe Bananas (mashed)
123g Vanilla Greek Yogurt
1 Tbsp Vanilla Extract
280g White Sugar
2 Eggs
115g Butter (melted)
175g White Chocolate Chips
100g Rainbow Sprinkles
Preheat oven to 200 degrees Celsius.
In a large bowl, combine the flour, baking soda, baking powder and salt. Add in white chocolate chips and 1/2 cup of the sprinkles. Mix until combined.
In a blender, food processor or with an electric mixer, puree bananas until smooth.
Add in Greek yogurt and mix until smooth. Add in vanilla extract, sugar and eggs, mix until smooth and combined.
Combine wet and dry ingredients, stirring until just mixed, do not over stir. Scoop into muffin pans with liners, filling about 2/3 of the way full. Once all cups are full, top with a sprinkle of sprinkles.
Place in oven and immediately reduce the temperature to 180 degrees. Bake for 20 minutes, or until lightly brown, and a toothpick or knife inserted into centre comes out clean. Allow to cool. Serve and enjoy!