Vanilla Raspberry Mousse Layer Cake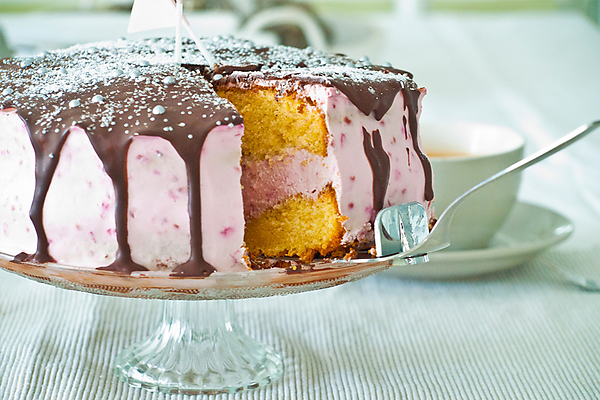 Vanilla Raspberry Mousse Layer Cake
Bake yourself (& friends and family if you dare to share) a sweet cake treat.
Ingredients
250g Caster Sugar
8 Eggs
100g Unsalted Butter, (plus extra for greasing)
250g Plain Flour
For the mousse:
100g Raspberries
250ml Double Cream
115g Unsalted Butter (at room temperature)
1 Tsp Vanilla Extract
3 Tbsp Milk
550g Icing Sugar
Preheat the oven to 180°C/gas mark 4. Grease two round baking tins and line with baking parchment.
Place a large heatproof bowl over a pan of simmering water on a medium heat, making sure the bottom of the bowl doesn't touch the water. Put the sugar and eggs in the bowl and whisk until the mixture is hot. Remove from the heat and beat for ten minutes more, until doubled in volume, light and mousse-like.
Melt the butter in a pan and cook until it smells nutty and turns light brown. Leave until almost cool. Gently pour the butter into the egg mixture, whisking continuously.
Sift the flour and fold it into the egg mixture. Divide the mixture between the two tins and bake for 25 minutes, or until a skewer comes out clean. Leave to cool in the tins for a few minutes, then turn out and leave it to cool on a wire rack.
To make the syrup, put the sugar and vanilla seeds in a pan with three tablespoons of water, then boil for five minutes, until syrupy and slightly reduced. It will thicken as it cools.
To make the mousse, blend the raspberries with the icing sugar and pass through a sieve. Whip the cream until stiff, then fold in the raspberry purée. Cover and chill.
Make the buttercream by beating the butter until softened, then add the vanilla, milk and icing sugar and beat until creamy and thick.
Our decadent range of cupcakes and muffins are the perfect sweet treat gift to treat yourelf or friends & family with for any occassion. Or why not shop our treat boxes with a little bit of all our product range, delivery always direct to door.