Vegan Millionaires Caramel Shortcake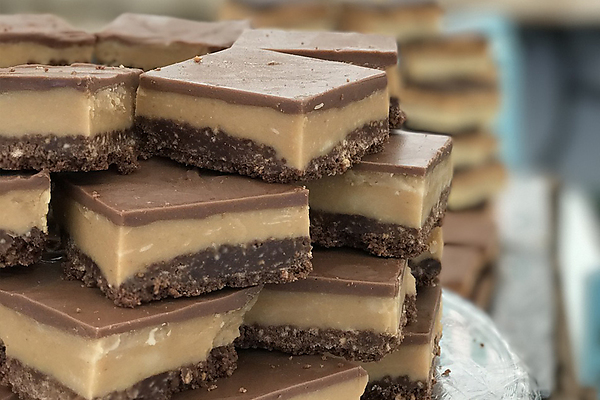 Vegan Millionaires Caramel Shortcake
In honour of 'Veganuary' we have a delicious chocolaty caramel vegan shortcake recipe to share with you and what is more, this recipe requires no baking!
Ingredients
For Shortcake:
75g Oats
50g Cashews
25g Cacao Butter
100g Dates
2Tbs Coconut Sugar
2Tbs Water
2 Tbs Cocoa Powder
For Caramel :
100g Cashew Butter
75g Dates
25g Maple Syrup
For Chocolate Topping:
30g Cacao Butter
15g Cacao Powder
15g Coconut Sugar
Add all the ingredients to a mixer for the shortcake base and mix and blend until combined and slightly sticky. Transfer the mixture to a small baking pan tray lined with parchment paper. Press the mixture out evenly with your hands.
Take all the ingredients to a mixer for the caramel layer and blend together until it forms a sticky caramel like texture. Spread the caramel mixture out on top of the shortcake layer in the tray.
Finally, add the cacao butter to a saucepan and melt. When the cacao butter is melted add the remaining ingredients for the chocolate topping and stir until all ingredients are well combined. Pour the chocolate onto the caramel layer and spread it out evenly. Transfer the baking pan to the fridge and let it chill for 1 hour before cutting into square pieces.