White Chocolate & Raspberry Blondie Cheesecake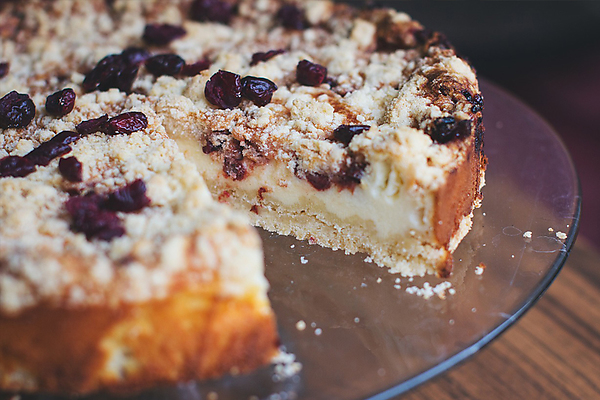 White Chocolate & Raspberry Blondie Cheesecake
Celebrate National Blondie Day with this delicious home-baked cheesecake recipe. Who doesn't love cheesecake…?!
Ingredients
175g Butter, (softened)
300g Light Brown Sugar
3 Eggs
1 Tsp Vanilla Extract
200g Plain Flour (a little extra for the topping)
1 Tsp Baking Powder
100g White Chocolate Chips
120g Soft Cheese
30g Caster Sugar
50g Dried Cranberries
Preheat the oven to 180⁰C, gas mark 4 and have ready a lightly greased 20x 30cm baking tin, lined with greaseproof paper.
Beat the butter and brown sugar together until light and fluffy. Gradually beat in the eggs and stir in the vanilla. Fold in the flour and baking powder until mixed. Fold in the white chocolate chips. Put a cup full of this mixture aside to crumble over the cheesecake as a topping.
Spoon the remaining mixture into the prepared tin. Beat together the soft cheese and caster sugar until smooth. Spoon this mixture randomly over the blondie mixture and swirl lightly together with the tip of a knife.
Sprinkle dried cranberries on top and then add extra flour to the topping set aside to make into a crumble by rubbing through fingertips and then sprinkle all on top.
Bake for about 30-35mins or until cooked. Allow to cool before removing from the tin.
If you love white chocolate then you must try our White Chocolate & Raspberry Cupcake, available to buy in a box of 12 with 10 weeks shelf life and ambient.